Social Justice and Ecology Secretariat of the Society of Jesus
Headlines 2013-10
                                                      ENG October 2013

.

..to exchange social justice and ecology news, stimulate contacts, share spirituality 

and promote networking…
Narrative
Encountering God at Angola Prison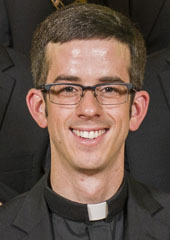 In April, as part of a three-week seminar on Catholic social teaching, my Jesuit novitiate visited the Louisiana State Penitentiary, better known as Angola Prison. Though in the past I worked for a program that assists recently released prisoners, until this day, I had not interacted with the permanently incarcerated. The experience of doing so turned out to be one of the most important moments of my novitiate.
Fr. Bernard "Bernie" Papania, the prison's full-time Catholic chaplain, met our group at the gate. He, along with a group of inmates selected by Fr. Bernie to be peer ministers, serves the Catholic population among the 8200 men at Angola. After we were checked-in, Fr. Bernie took us to a room where the peer ministers awaited us. As far as I could tell, all of them were serving lifetime sentences, as are the overwhelming majority of inmates at the prison. They gave us a wonderful presentation on the prison's inmate-staffed hospice program, followed by a series of testimonials. We novices were amazed that these men had grown in their faith amidst an extraordinarily challenging atmosphere. I was particularly touched by the story of Kevin, a young man convicted of double homicide, who eloquently spoke of his conversion sparked by contemplating a crucifix during a sleepless night.
When the session finished, the peer ministers led us on a tour of Angola. They showed us the prison's greenhouse and toy shop, and we visited a row of men who were being punished for disciplinary violations. As we walked to the dining hall for lunch, I caught up with Kevin. He told me more about living at Angola, and I asked him a question that had been on my heart the whole morning.
"Kevin, how do you get through this?"
He stopped walking and looked at me. "Some days are really hard. I know that I'm going to die here. I just hope I can make a difference in somebody's life."
I told him how much he had inspired me. He smiled and looked down, remarking that no one had told him that before.
As our visit came to a close, I got Kevin's address so that we could continue our conversation. I was deeply moved by all that I had seen and heard. Yet I experienced an interior tension: there was a family somewhere whose lives had been tragically and permanently altered by Kevin's actions. Despite his moving conversion, an elderly couple was still dead and a family still missed them. Did Kevin deserve to experience anyone's love and compassion? Did he deserve to feel anything but misery?
The answer, of course, is no. But neither do I. Some of the mistakes I've made have caused irreversible damage in the lives of good people, and nothing this side of heaven will erase that damage. I will die within the prison walls of these irreversible consequences.
Yet for some incomprehensible reason, God continues to love me. Somehow God's love has penetrated the walls of my own prison and embraced me with the love of my friends and family, my brother Jesuits, and those to whom I minister. I do not deserve their love-my prison of irreversible consequences reminds me of that-but it's precisely that undeserved love that convinces me that grace is real and that God can and will make all things new.
Kevin is going to die at Angola prison. I can choose to love him and others in his situation, to visit them and defend them when necessary, or I can choose to ignore or even hate them. My choice will not bring their victims back to life, nor will it bring down the walls which daily remind these men of what they've done. But my choice could determine whether or not they come to know the totally undeserved love of Christ that I have known. How can I feel anything except a passionate desire for them to experience that love in all of its lavish mercy, compassion and tenderness?
The day ended with Mass. Before the liturgy began, as we sat in the quiet prison chapel, someone approached the altar and stood on his toes to light the Easter candle. It's the candle that bears witness to the truth that Christ still is alive, that he still loves us and forgives us-even those of us who have built our own prison walls. The acolyte, a murderer, returned to his pew, and we all prepared to receive the crucified and risen body of our Lord.
Flashnews
EcoJesuit – IPCC on Climate Change
The Intergovernmental Panel on Climate Change (IPCC) gathers the effort done by the scientific community to provide evidence to decision makers and the public on the mechanisms and effects of climate change. At the end of September, it has produced its Fifth Assessment Report: Climate Change 2013: The Physical Science Basis. This is the outcome of the Working Group I, a full report of more than 2,000 pages, the major findings of which are furnished in a Summary for Policymakers. EcoJesuit has made a comment on ithttp://ecojesuit.com/climate-change-2013-the-physical-science-basis-and-the-human-response-needed/5805/" target="_blank"> Read more…
Promotio Iustitiae 112 – Community as mission

There is an interest in renewing the sense of community life in the Society in a way that it could be considered part of the mission and make it possible to offer a friendly space to the poor. Hence we wanted to dedicate this issue of Promotio to gather a series of articles which explore the question in more depth: http://www.sjweb.info/documents/sjs/pj/docs_pdf/PJ112ENG.pdf" target="_blank"> Read more…
Vatican – On mining

The CEOs of some of the world's top mining companies went to the Vatican for a day-long meeting in September to discuss better ways to operate in communities that are increasingly protesting the destructive impacts of mining. Communities are fearful – with good reason – of the impacts of mining on their water, land and air. Fr. Josep Mària sj was part of the team gathered by the Pontifical Council for Peace, Justice and Integrity of Creation to dialogue with the CEOs. Pope Francis offered a message of greeting and challenge to the group and offered his prayers and blessings on the event:http://omiusajpic.org/2013/09/11/vatican-hosts-mining-ceos-in-a-day-of-reflection/" target="_blank"> Read more…
Dominican Republic – Defending Dominicans of Haitian origin

The Bonó Centre in Dominican Republic has denounced as unjust the decision taken by the Dominican Constitutional Court that identifies as migrants in transit persons that have been in the country for the last 85 years. This decision prevents the naturalizing process of thousands of Dominicans of Haitian origin present in the country for many decades. They have launched a campaign to defend these Dominicans: http://www.cpalsj.org/republica-dominicana-el-centro-bono-rechaza-sentencia-aberrante-del-tribunal-constitucional/" target="_blank"> Read more…
Central America – Position on Mining Extractive activities:

At the end of September the Social Apostolate sector in Central America gathered together to discuss about increasing mining activities in their countries. They expressed their resilience against mining industries that are causing social and environmental disasters, being also a constant threat for the lives of rural and indigenous communities. They finished their meeting with a declaration: http://jesuitascam.org/seminario-centroamericano-de-analisis-de-la-realidad/" target="_blank"> Read more…
Sri Lanka – Harassment by military personnel

The Centre for Promotion and Protection of Human Rights working in Trincomalee said they had been harassed by military personnel, two days after UN Human Rights Chief Navi Pillay complained of reprisals against persons and organisations in the North and East who held discussions with her during her week long mission to Sri Lanka. More: https://www.colombotelegraph.com/index.php/fr-yogeswaran-harassed-after-pillay-meeting/ " target="_blank"> Read more…
Malta – Faith and Environment:

On the 14th September the Jesuit Centre for Faith and Justice with the support of other entities including the Interdiocesan Commission for the Environment; the Parish of Bormla and the Borma Local council organized TWEMBJENT a festival on the theme Faith and the Environment. The festival included a Mass on the theme. Stands on various aspects of sustainable development, others presenting work done by various environmental NGOs as well as a stand for environment friendly food were set up. Small groups were guided in prayerful reflections on the link between Faith and the Environment: http://www.jesuit.org.mt/content.aspx?id=362939″ target="_blank"> Read more…
US – Comprehensive immigration reform legislation
In a sign that Catholic Jesuit institutions across the country want the U.S. House of Representatives to take action on comprehensive immigration reformlegislation, nearly thirty Jesuit institutions across the country hosted events in support of legislation that includes a pathway to citizenship during the week of September 22-29, 2013. Learn more about these events, supported and organized by the Ignatian Solidarity Network here: (http://ignatiansolidarity.net/blog/2013/09/18/jesuit-institutions-make-fall-call-for-humane-comprehensive-immigration-reform/" target="_blank"> Read more…
Asia Pacific – Building houses for the poor

Xavier University undergraduate Mary Joy Conquilla never dreamt that she would ever build a house as a gift, but she recently did just that in a Jesuit education programme conceived to encourage students to apply Ignatian pedagogy in their everyday lives. Mary Joy was one of 33 students and seven faculty members from nine Jesuit institutions participating in this year's Service Learning Programme (SLP), in which the housing building project was the main service activity. The SLP is an initiative of the Association of Jesuit Colleges and Universities Asia Pacific (AJCU-AP) and was, this year, hosted by Ateneo de Naga University:http://sjapc.net/content/loving-poor " target="_blank"> Read more…
---
To read documents published in other languages, go to

http://translate.google.com/

 and insert the link to the document. Then choose the languages (From: and To:) and click Translate.
If you want HEADLINES delivered straight to your e-mail box, go to the Headlines Subscription Form:. HEADLINES is available in English, French, Italian and Spanish and is sent to 8,000 addresses in 130 countries. Please let us know when you change your e-mail address by sending an email to sjes-hl@sjcuria.org. Thank you! Visit our website:www.sjweb.info/sjs. 
Patxi Álvarez SJ, Publisher 
Xavier Jeyaraj SJ, Editor
Social Justice and Ecology Secretariat, Borgo S. Spirito 4, 00193 Rome, Italy 
If you are having problems with the new format of Headlines, please reply to this email to let us know.
Bình luận