Social Justice and Ecology Secretariat of the Society of Jesus

Headlines 2012-02

                                                      29 February 2012

…to exchange social justice and ecology news, stimulate contacts, share spirituality
and promote networking…
Narrative
Contextualizing My Theology with Domestic Working Girls
During my theology studies at Vidyajoti, Delhi, India from July 2007 to October 2010, I had to go for ministry with people as part of contextualized theologizing. There were many options given to us from among whom we had to give three choices in the order of priority and wait for the final word from the ministry coordinator. I was totally surprised when my name appeared in the list against the ministry for domestic working girls. It would not be out of place for me to mention that this ministry was nowhere in my list of priorities. In fact I did not want to work with the 'Domestic Working Girls', because I had heard a lot of stories about them and I was prejudiced about them.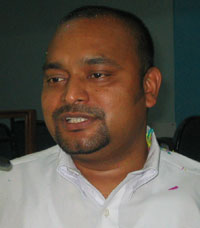 The only consolation was that I was going to work with a Jesuit headed organization Adivasi Jeevan Vikas Sanstha (Tribal Development Society). It is directly under the care of Social Apostolate Coordinator of the Assistancy, JESA Secretary, at Indian Social Institute, New Delhi.
The first day was shocking and surprising. My predecessor Fr. Rajenius Barla accompanied me to the hall along with the JESA Secretary, where almost around 100 girls were gathered. I could not believe that such a great number of girls worked as Domestic maids. In fact, I came to know later that there are around 200,000 such girls working in Delhi alone, most of them being tribal Christians. I wanted to almost back out and run away, which I could not. We were given a warm welcome and thus began my journey with the domestic working girls. Though initially unwilling, I decided to put my heart and soul in my ministry and decided to be a true brother throughout my stay and work with them. I thought 'what if these girls were my own sisters'. This helped me to identify myself with them and became friendly.
I had various roles to play some of which were of teaching, advising and sometimes being a parent. I gave special attention to the ones who looked lost, lonely and sad. Whenever I spotted them needy for attention I reached out to them and made them feel at home. I found them cheerful after every such personal interaction. Almost all the girls were Tribals from the States of Jharkhand, Orissa, West Bengal, Assam and Chattisgarh. I, being a tribal myself, was able to understand them and enjoy being with them, listening to their life stories. The most significant need was to give them a listening ear. It helped them a lot to overcome their hurt feelings and emotions. Many a times I had no words to say but just give them an empathetic hearing and a few words of consolation showing them that I was with them. That's all I could do. As days passed, most of them started trusting me and would approach me without any hesitation and ask for help. More than anything else I became their brother and they were no more Domestic Working Girls but my own sisters working as domestic helpers.
The following year I was assigned the prison ministry, which was on weekdays. So I requested that I continue to work with the girls and the prison ministry. In my theology class this ministry helped me contextualize my theology studies and raise relevant questions. This ministry with the domestic working girls has helped me to improve my personality, temperament, spirituality and my theology. It has also taught me to deal with the persons of complimentary sex, to behave maturely and to make plans and implement them.
The peak experience was when I went back to these sisters of mine to offer my Thanksgiving Eucharist as a priest. The joy and happiness I saw in their faces was a great encouragement to live my priestly life. I thank God for the gift of many sisters who formed me in becoming who I am today. In return I pray that they live a happy life in spite all the hardships they face.
Fr. Vijay Pratap Toppo SJ
Nepal Region
Flashnews
Venezuela – An Analysis of Latin America:

On 31st January 2012, the Centro Gumilla in Caracas – Venezuela released the last Analysis of the situation (Análisis de Coyuntura) in Latin America, covering the period from October to December 2011. These analyses are produced with the help of other Jesuit Social Centres in Latin America. Among other questions it offers some thoughts about the present economic crisis from the perspective of the Latin American countries. For more information
JRS – Commitment to Justice:

JRS has recently made public the Strategic Framework for the period 2012-15, where they express their mission and values, their compassion for humanity on the edge. They also explicit their commitment to justice rooted in a deep faith and the need for building a stronger and more united JRS. The text can be found here.
(It can also be found in other languages)

Europe – International day for Soldiers Children:

The International day for Soldiers Children was celebrated on 12th February. The Jesuit NGOs Entreculturas and Alboan joined Amnesty International and Save the Children in a campaign promoting their rights and rehabilitation and asking for education for them.  They have issued some information about the Soldier Children in the world and some videos have been edited on this reality. Video1 and Video2
United States –  Jesuit Conference engagement leads to adoption of Human Rights Policy at OM Group:
The Jesuit Conference of the United States announced that its four-year engagement with OM Group has resulted in the adoption by the company of a human rights policy for its employees, including miners at its cobalt smelter in Lubumbashi, Democratic Republic of the Congo (DRC). According to the Jesuits, their engagement with OM Group began after a visit to the company's smelter in Lubumbashi raised concerns about worker safely at an adjacent site owned by a joint venture partner. In 2007, three children were killed in a workplace accident there.
Africa – JESAM plans to Assess and plan the future of Jesuit Social Apostolate in Africa:

Jesuit African Social Centers Network (JASCNET) is organizing a seminar on 'Assessment and Future of the Jesuit Social Apostolate in Africa, in view of 50 Years of Independence: The role of our Centers for Social Study and Action' from June 24-28, 2012 in Nairobi. This seminar will bring together at least 30 leaders, directors and delegates from various provinces, to consider how to make the Jesuit social apostolate an instrument of social change, for the rebirth of the continent.
India – Jesuit Social Centre brings together 10,000 Tribals to rebuild their identity:

LAHRC-Shakti Social Centre in Gujarat brought together more than 10,000 tribals for a two-day cultural fest to revive, encourage and strengthen the adivasi (indigenous) culture and identity.  The fete completely organized and financially supported by the tribals themselves has become a powerful tool to build a greater bond among the tribals and to struggle for justice and equality. Read more…
India – Jesuits house Flood Victims:

Loyola Pragati Kendra, the Jesuit Social Centre provided 127 flood-affected families with new homes in Karnataka's Raichur district. Many poor families from various religious backgrounds lost their homes in October 2009, when flood waters struck washing away thousands of houses. Fr. Eric Mathias, the director of the centre says that the Jesuits have been working since then to help rehouse the flood victims, especially the poorest. Read more…
United States – St. Louis University program in Mo. Prison helps set minds free:

In 2008, SLU started offering certificates in Theology Studies at the prison. In March, it expanded to an associate of arts, a two-year degree that will take the inmates four years to finish. When the initial certificate was offered, the application window closed after five days – more than 300 inmates applied for 15 slots. SLU selected inmates without life sentences and those who tutored or held leadership positions in prison. Read more…
---
To read documents published in other languages, go to http://translate.google.com/ and insert the link to the document. Then choose the languages (From: and To:) and click Translate.
If you want HEADLINES delivered straight to your e-mail box, go to the Headlines Subscription Form:. HEADLINES is available in English, French, Italian and Spanish and is sent to 8,000 addresses in 130 countries. Please let us know when you change your e-mail address by sending an email to [email protected]. Thank you! Visit our website: www.sjweb.info/sjs.
Patxi Álvarez SJ, Publisher
Xavier Jeyaraj SJ, Editor
Social Justice and Ecology Secretariat, Borgo S. Spirito 4, 00193 Rome, Italy
If you are having problems with the new format of Headlines, please reply to this email to let us know.