Social Justice and Ecology Secretariat of the Society of Jesus

Headlines 2012-03
                                                      ENG 31 March 2012
…to exchange social justice and ecology news, stimulate contacts, share spirituality
and promote networking…
Narrative
Learning together about AIDS in Africa
People living with HIV/AIDS in sub-Saharan Africa are often targets of prejudice. Their HIV +ve status shifts their positioning within the community from the middle to the peripheries, with dire consequences for their overall welfare. Sometimes what is forgotten is that being HIV +ve does not make one less human; quite the contrary, sensitivity is often heightened in people with HIV. To forget this is to ignore their humanity.
In Shakespeare's The Merchant of Venice, a famous quote by Shylock poignantly describes this reality: I am a Jew. Hath not a Jew eyes? Hath not a Jew hands, organs, dimensions, senses, affections, passions? Fed with the same food, hurt with the same weapons, subject to the same diseases, healed by the same means, warmed and cooled by the same winter and summer, as a Christian is? If you prick us, do we not bleed? If you tickle us, do we not laugh? If you poison us, do we not die? Shylock's words are a reminder that, lest we forget as a society, people with HIV will bleed when pricked, laugh when tickled and die when poisoned. As a community, our actions, inactions, words and silence towards people with HIV is symbolic 'pricking', 'tickling' or 'poisoning'.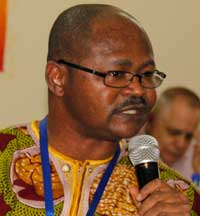 I shared this quote recently during a conference organised by the African Jesuit AIDS Network (AJAN) in Nairobi; the conference was part of a book project initiated in June 2011, marking 30 years since the first cases of what would later become known as AIDS were reported. Sub-Saharan Africa has borne a disproportionate burden of the AIDS pandemic, with current estimates of 22.5 million people living with HIV, 68% of the global total. As part of the need for greater reflection on this pandemic, AJAN issued a call for papers for a book exploring the multi-faceted response to AIDS in sub-Saharan Africa.
In late January 2012, AJAN invited the book contributors for a conference to present and debate their papers. Twenty-six Jesuits and their collaborators attended, representing a wide range of academic disciplines, from theology and philosophy to human rights and ethics to medicine, as well as considerable field and advocacy experience.
Those of us who responded to the AJAN call for papers did so for a number of reasons. HIV/AIDS is an important pastoral issue in our ministries. Many governments, especially in Africa, have yet to incorporate the rights of people living with HIV/AIDS into mainstream legislation. The dearth of legislation comes to the fore when we work with and for people with HIV at the global, national and local levels. We wanted to learn more about the pandemic and some of the best ways to respond.
At a personal level, I came to the conference with indispensable resources to help me understand more about the pandemic: the first is what in Ignatian parlance is called cura personalis, the second is an open mind to learn from fellow Jesuits and our collaborators. My contribution threw some light on the discriminatory practices, inequalities and unfair power relations surrounding AIDS in sub-Saharan Africa. It was important to reflect on these issues because at the heart of our conversations was an understanding of the human being as created in the image and likeness of God and therefore as a rights-holder.
Our conversations drew attention to the 'signs of the time' visible around us in the AIDS pandemic, such as the problem of stigma, universal access to antiretroviral therapy, and poverty of resources. These 'signs', in turn, raised the question of 'what God is saying to us?' and 'where does he want us to be within this pandemic?' Even with limited resources, it was clear that God is calling us to be present to those who are infected and affected by HIV/AIDS.
I left the conference, as I am sure the rest did, with new insights about how different organisations, not least the Catholic Church, are responding to the problem at several levels. But, more importantly, I learned that God is calling us to help reveal his face in this pandemic.
What makes the AJAN project unique is how the day-to-day work with people infected and affected by HIV/AIDS has led us to a deeper understanding of an issue affecting Africa and the rest of the world. There is every hope that the book emerging from the project will make an important contribution to literature about HIV/AIDS and a deeper commitment to work among the affected people.
Isidore Bonabom SJ
Isidore, a Jesuit from Ghana, obtained his MSc in human rights and LLM from London School of Economics. He has just completed a doctorate in human rights law at the University of Sussex. His research focuses especially on rights-based approaches to law and policy-making, the construction of human rights, and women's rights in Africa.
Flashnews

Africa – JASCN organizes animation and training Programs for Social Change: Jesuit African Social Centres Network, which aims to encourage joint initiatives among Jesuit social centers in the continent and facilitates the exchange of experiences and mutual enrichment coordinates the social action in the conference, has initiated a series of 6 programs of animation and training for Jesuits in 2012. Two have already been conducted on Project management, one in January in Nairobi and the second in February in Abidjan. Two more programs are planned as formation courses in management, and another two on research, analysis and publication. They will be held in four African cities, namely Nairobi, Abidjan, Kinshasa and Lusaka. JASCN also plans to organize training courses specializing on the processes of elections, and on how to prevent electoral conflicts and violence. Finally, in the light of the fifty years of independence of many African countries, the final seminar will address the question of how to create structures among Jesuit social centers in Africa to bring in Social change and social transformation.

South Asia – Fifty Eco-Jesuits meet to Reflect on Ecological concerns: 50 Jesuits, that included the Conference President, one Provincial, 15 theology students and many Jesuits involved directly in the ecological concerns, came together at Tarumitra in Patna from 10-12 March, to share their personal experiences, their concerns about deforestation, pollution, global warming, plight of the poor and the tribals (Indigenous people) and to reflect on the eco spirituality that draws them to eco-action today. Reflecting on the SJES document "Healing the Broken World" they prepared 5 priority concerns for South Asia and also made a Final Statement of the Meet titled "God's Dream With Us".  Read more…

United States – Jesuits and Religious leaders call for a Faithful Budget: Standing in stark contrast to partisan federal budget proposals in the United States that seek first to address a bottom line instead of the nation's needs and priorities, on March 22, the Jesuit Conference joined religious leaders and faith-based organizations from across the U.S. in unveiling a "Faithful Budget" proposal for congressional consideration.  The Priorities for a Faithful Budget is a set of comprehensive and compassionate budget principles that will protect the common good, value each individual and help lift the burden on the poor. Read The Faithful Budget in its entirety.

Bolivia – Bolivian Bishops' Conference issues Pastoral Letter on Ecology and Human Development:  The text, "The Universe, gift from God for life" was released on the 22nd of March. It speaks about creation as a gift from God and raises awareness about the threats that is facing today. In the case of Bolivia it shows how mining activities, deforestation and climate changes are having dangerous impact on the environment in the region. It expresses the need for change both at the global and local levels. It calls us to take responsibilities and a deep sense of reparation and commitment. It also expresses a sense of hope and calls for a change in the present consumerist way of living and to establish international alliances to responding to the challenges. Click to read the Letter

India – Darjeeling Jesuits play proactive role in Right to Food Campaign: To highlight the plight of the tea workers and villagers of North Bengal in India, who do not get their due food grains, because of the serious drawbacks within the Public Distribution System of the government, a few Jesuits social activists of Darjeeling Province along with 20 other NGOs, including some religious, and trade unions campaigned for Right to Food on 11th March in Siliguri town, with a march of 2,500 people from various parts of Darjeeling and Jalpaiguri districts, and the convention that followed. Read more…

Bolivia – Andean-Amazon Forum for Rural Development:  The Jesuit Social Centres in Bolivia, along with several institutions, are getting ready for the Andean-Amazon Forum for Rural Development, to take place from 9-11 May in La Paz. This international event will bring together organizations and participants from different countries of Amazonia, namely Mexico, Panama, Brazil, Ecuador and Bolivia along with Spain, who will involve in activities such as debates, meetings, agro ecological markets and a photographic contest. The forum will provide opportunities through workshops and meetings in order to promote and strengthen the dialogue among the participating countries as well as exchange experiences, knowledge and vision. This event is being organized with the aim to offer a more articulated contribution for the development of the Andean-Amazon region. Read more…

United States – Webinar on Catholics and the Climate: Last month, the Catholic Coalition on Climate Change (of which the Jesuit Conference is a member) partnered with the Loyola Institute for Ministry at Loyola University New Orleans to produce a free webinar entitled, Catholics and the Climate: Fostering Mission-Based Sustainability.  The Coalition just released a recording of the webinar in its entirety.  Bishop William Skylstad and Dan DiLeo of the Coalition addressed the importance of creation care for Catholics (especially environmental sustainability) and the link between sustainability and mission for Catholic institutions of higher education. They also discussed how Catholic colleges and universities are implementing the Coalition's collaborative resource, Sustainability in Catholic Higher Education Toolkit for Mission Integration.

Vatican – Water an Essential Element for Life: With a view to the Sixth World Water Forum that took place in Marseille, France, 12-17 March 2012, the Pontifical Council for Justice and Peace prepared the Holy See's contribution, entitled, Water an essential element for life. Although some results have been achieved, the document points out that half of the world's population still does not have adequate access to drinking water and expresses a strong hope for better management of water resources on the part of all those involved as they are called to act responsibly, with sobriety and solidarity.

Tibet – Documentary on itinerary of Portuguese Jesuits in the Himalayas: The documentary Himalaias: viagem dos Jesuítas portugueses retraces the routes of a group of intrepid pioneer Portuguese Jesuits in the early 17th century in the Himalaya area, inviting viewers to meet an important chapter of our collective past: the exploration within the Asian continent, associated with the search of the mythical kingdom of Cathay. Joaquim Magalhães de Castro, the director of the documentary, traveler and researcher of the history of Portuguese expansion says, "From Goa (India), they went to Agra and from there to Tibet." Read more…
Hotspot

Perú – Jesuit Archbishop receives death threat for standing against mining: Mons. Barretto, Jesuit Archbishop in Huancayo received phone calls and SMS messages telling him that his days are numbered and asked him to get the coffin ready.  The threats were because he wrote a letter about the danger of mining activities in La Oroya that contaminates the environment and damages the health of people particularly the children. His letter titled 'No silence before evil' asks for not reinitiating the mining activities before implementing the protocol to protect life, health and dignity of people in La Oroya and in the region.  He received threats two days after releasing the letter.  Read more…

Korea – A Jesuit held for protest against naval base on Jeju Island:  The Church in Korea has taken a stand against the construction of a naval base on Jeju Island, a province of South Korea.  The Korean Jesuits are in strong support of this, participating in protests and conducting masses on-site.  As a result some have been arrested a number of times in the past for hindering the construction work. On March 11, the Jeju district court issued arrest warrants for Fr Joseph Chong-uk Kim SJ and Protestant Reverend Lee Jeong-hun.  As of March 14, Fr Kim was still being held for investigation and trial.  The controversial questions include: Is the naval base necessary? Will this cause environmental harm to Jeju Island, "an island of peace" and considered as one of the 7 wonders of the world recently? Will the project heighten military tension in Northeast Asia? And can the national government reject the concerns of the local people? Read more…
---
To read documents published in other languages, go to http://translate.google.com/ and insert the link to the document. Then choose the languages (From: and To:) and click Translate.
If you want HEADLINES delivered straight to your e-mail box, go to the Headlines Subscription Form:. HEADLINES is available in English, French, Italian and Spanish and is sent to 8,000 addresses in 130 countries. Please let us know when you change your e-mail address by sending an email to [email protected]. Thank you! Visit our website: www.sjweb.info/sjs.
Patxi Álvarez SJ, Publisher
Xavier Jeyaraj SJ, Editor
Social Justice and Ecology Secretariat, Borgo S. Spirito 4, 00193 Rome, Italy
If you are having problems with the new format of Headlines, please reply to this email to let us know.