Social Justice and Ecology Secretariat of the Society of Jesus

Headlines 2012-05
                                                      ENG 31 May 2012
…to exchange social justice and ecology news, stimulate contacts, share spirituality
and promote networking…
Narrative
Walking with the Crucified
Deon used to come to mass almost daily with his wild eyes beaming and flashing a big, toothy grin.  He especially seemed to love coming into the church in the middle of my homily and calling out at the top of his voice, "HI, FATHER!"  He was clearly suffering from some form of mental illness, and there were numerous stories as to its cause.  Some said that he had a breakdown, when his mother died earlier that year.  Others said that a machete chop to the head as a teenager left permanent damage.  Regardless of why Deon was how he was, we all squirmed uncomfortably when he was around, thinking him a "loose cannon" and never being quite sure what he would do when he walked in.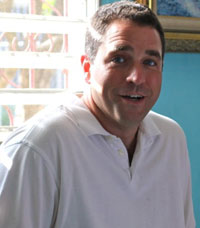 In the three-years I have lived at St. Martin de Porres parish in Belize City, I have seen our parishioners and priests alike create a welcoming space – sometimes begrudgingly, as in the case of Deon – for many of our most broken sisters and brothers, who wander the streets without family and without access to healthcare.  Deon was a constant reminder to us of the great paradox at the heart of Belize: in a country filled with so much beauty, there is, at the same time, a profound brokenness and haunting sense of our powerlessness to fix it.
Perhaps that is why Deon drove me crazy: he reminded me too much of my own brokenness and powerlessness.  Most days I wanted to throw him out, but I know at my core that either the church doors must open to everybody or they ought to remain closed.  Yet none of us knew how to care for him, nor did we know how to control him.  Sadly, I am aware that I could say the same thing for my own brokenness.  Most days I want to throw it out, but the invitation is to compassion, not exclusion.
Then one morning mass during Lent, the Lord spoke unmistakably.  Deon came in his usual fashion, he walked straight up to the altar, which was decorated for the season with a purple cloak and a crown of thorns.  Sitting on the floor in front of the altar, Deon proceeded to place the crown of thorns on his head, beaming with a mischievous delight for all to see.  I continued on with mass as though this were nothing unusual, but the message was plain as day: here was Jesus, broken and powerless, distracting and mischievous, in the guise of Deon.
Matthew 25: 34-46 is one of the most striking passages in the Gospels.  Jesus identifies himself with the sick, the imprisoned, the broken, the poor.  When you did it for one of the least of my brothers or sisters, you did it for me.  But Jesus exhausts me.  Sometimes he can be so distracting with his demands for attention or assistance!  Sometimes he is loud, and sometimes he stinks of cheap rum!  Sometimes I am so busy being a priest that I do not have the time or energy to respond!  Deon is a reminder of the paradox at the heart of our faith: in the midst of brokenness and powerlessness – both ours and that of the world – the Crucified One calls us out.
I have not seen Deon in two-years, but I think of him often.  I work as the director of an NGO in Belize City that tries to create jobs for young men and women trying to escape the cycle of poverty, gangs, and violence, called the Centre for Community Resource Development.  Most days, it feels as though we are trying to squeeze water from stones.  My inexperience and feelings of inadequacy in my role are always before me.  Despair and fear are frequent temptations in the face of so much violence and suffering.  Yet there are moments, when I can see Deon with the crown of thorns on his head, and I am reminded, as I so often need to be, that this is Jesus' kingdom, Jesus' work, and Jesus' people.
Brian Christopher SJ is the Executive Director of the Center for Community Resource Development (CCRD) in Belize City, Belize, Central America.  CCRD is an NGO dedicated to community organizing and economic development in communities hit hardest by poverty and crime.  www.ccrdbelize.bz or [email protected]
Flashnews
SJES – Conference Coordinator's Meeting reflects on Ecology

At the tenth annual meeting of Social Apostolate Coordinators of the Jesuit Conferences and Assistancies, held from 14 to 18 May in Rome, the participants shared on the implementation of the recent Ecology document 'Healing a Broken World' based on the collated reports of the Conferences.  The 11 Jesuits present at the meeting also looked at the apostolic challenges that the Society of Jesus is facing and ways of integrating the dimensions of Justice and Ecology in all the apostolic interventions. The other two issues the participants discussed were on the Profile of the Social Apostolate Coordinators of the Conference and Provinces and the situation of Global Ignatian Advocacy Networks (GIAN).
Latin America – Rio+20 is a chance to become more sustainable
Rio+20 Conference next month (20-22 June 2012) is an opportunity for the world to get serious about the need for development to become sustainable. Jesuits from Latin America will take part in the "Cupula dos povos", the social summit to be held in Rio, parallel to the official meeting. They will organize a prayer and spend a day looking for better ways to respond to ecological challenges. Some Jesuits – mainly from the Global Ignatian Advocacy Network (GIAN) on migration – will also be present at the official summit. Daily online newsletter will be sent from EcoJesuit. Kindly subscribe to receive the newsletter during the days of the Conference. To know more on Rio +20 we recommend the materials of CIDSE and of the Third World Network.
Africa – Social Centres gathering in Nairobi

Jesuit Social Centres from African Conference will gather in Nairobi from 24 to 28 June to evaluate the response of social apostolate in Africa; to examine the accompaniment they offer to people and to States and to look for ways to contribute for the rebirth of the continent. Fr. Rigobert Minani, the Social coordinator of African Conference is organizing the event that will gather together African Jesuits and a few more coming from other continents.
India – Dalits and Tribals claim rightful share in the Union Budget

On May 9, around 5,000 representatives of Dalits and Adivasis (indigenous people), who roughly comprise 17% and 8% respectively in India's population, displayed a remarkable strength of unity as they walked to claim their rightful share in the Union Budget of the Central Government. They marched from Mandi house to Parliament Street in New Delhi, not willing to be discouraged by the scorching heat of above 40 degree Celsius and the traffic. Read more…
US – Trash Talk: A Christian Response to our Throwaway Society

In an insightful cover article for America magazine, Gregory M. Kennedy, S.J., examines the culture of disposable consumption that pervades modern life in the industrialized world.   In Trash Talk, A Christian response to our throwaway society, Kennedy reflects on how consumption is at the heart of climate change.  Developed countries such as the United States consume far more of the world's resources than developing nations.  And much of this is, quite literally, trash. Read more…
Latin America – Latest Analysis of the Latin American Social Reality

On behalf of the Jesuit social centres in Latin America, Centro Gumilla of Venezuela has released a new analysis of the Latin American social reality. The report speaks about the Sixth Summit of the Americas held in Colombia last year, about migration policy in Brazil and about the overall optimistic situation of Latin America despite the global crisis. The analysis in Spanish can be found at the website of the Jesuits in Latin America.
India – Eco Retreat for West Zone Jesuits

An Eco-Retreat is planned for Jesuits to experience and relish the presence of the Lord in His creation from November 8 – 17, at Sawantwadi on the banks of a beautiful lake near Goa. The lake and lush green hills close by make it a place to commune with God together with His creation. It will follow the Ignatian approach to God's creation and the need for reconciliation with Nature. Robert Athickal S.J who has been initiating a "new Cosmology for our Times" for more than two decades will animate this retreat. Read more…
US – Educating the Native American Indians

On May 19, 47 students graduated from the Red Cloud Indian School on the Pine Ridge Native American Indian Reservation in South Dakota, including six individuals who have been at Red Cloud since Kindergarten.  Jesuits have been ministering and educating on the Pine Ridge Reservation since the 1800s with the High School opening in 1937.  Tiara Little, the class Valedictorian,  closed her valedictory with a quote by Mohandas K. Gandhi, one that is superbly expressive of the Lakota and Ignatian values of generosity and service that Red Cloud espouses, and one that she says she has grown to live by: "In order to find yourself, you must live in the service of others." Read more…
India – North Zone Social Action Jesuits plan collaboration

Twelve North Zone Jesuits in Social Action from 4 Provinces and 1 Region came together from April 18 to 19 in Guwahati, North East India to share their experiences and to plan for a collective action on issues affecting the zone. Issues planned for inter-province collaboration include Human Rights, Migrant and Domestic workers, Self Help Groups and Missing Children. Fr. Arockia Swamy of Delhi Province was chosen as the new Zonal coordinator. Read more…
US – A Jesuit Day of Service and Advocacy

On Saturday, April 28, 500 people from nine Jesuit and Ignatian-inspired institutions participated in a Jesuit Day of Service in North-eastern Ohio. In addition to the direct service work being performed, the service sites had "advocacy stations" facilitated by staff from the Ignatian Solidarity Network (ISN). Jesuit Conference Social and International Ministries collaborated with the ISN to provide advocacy materials related to affordable housing, one of the Jesuit Provinces' advocacy focus issues.  Read more…
EU & Africa – Catholic bishops urge the EU to legislate on transparency of extractive companies

While a group of EU member states are attempting to water down new EU transparency legislation, Catholic bishops from around the world urge the EU to push forward and require European Union-listed and large unlisted extractive companies to publicly disclose the payments they make to governments worldwide.  Mgr Joseph Banga from the Democratic Republic of Congo (DRC) says the upcoming revision of the EU Transparency and Accounting Directives could have a positive impact on the lives of poor people living in resource-rich developing countries. If EU companies are required to report on a country by country and project by project basis on their financial dealings with host governments, citizens will be able to monitor the management of their natural resources. Read more…  Video interview of Mgr Joseph Banga (in French with English subtitles)
Philippines – Filipino Priest receives Global Environmental Award

Fr. Edwin Gariguez, or Father Edu, is a recipient of one of six 2012 Goldman Environmental Prizes awarded on 16 April for 'leading a grassroots movement against a large-scale nickel mine to protect Mindoro Island's biodiversity and its indigenous people.'  Father Edu is a Catholic priest and pastor of the Mangyan Mission.  He is also the executive secretary of the National Secretariat for Social Action, Justice and Peace. Read more…
---
To read documents published in other languages, go to http://translate.google.com/ and insert the link to the document. Then choose the languages (From: and To:) and click Translate.
If you want HEADLINES delivered straight to your e-mail box, go to the Headlines Subscription Form:. HEADLINES is available in English, French, Italian and Spanish and is sent to 8,000 addresses in 130 countries. Please let us know when you change your e-mail address by sending an email to [email protected]. Thank you! Visit our website: www.sjweb.info/sjs.
Patxi Álvarez SJ, Publisher
Xavier Jeyaraj SJ, Editor
Social Justice and Ecology Secretariat, Borgo S. Spirito 4, 00193 Rome, Italy
If you are having problems with the new format of Headlines, please reply to this email to let us know.