Social Justice and Ecology Secretariat of the Society of Jesus
Headlines 2012-11
                                                      ENG 19 November 2012

.

..to exchange social justice and ecology news, stimulate contacts, share spirituality

and promote networking…
Narrative
Ferdinand Muhigirwa, a Jesuit working for Social Change
Jesuit priest Ferdinand Muhigirwa from the Democratic Republic of Congo (DRC), engaged in the social sector, was the director of the Centre of Studies for Social Action (CEPAS) from 2005 until 2012. Although his country is bursting with natural resources, their exploitation does not benefit most of the population. This is why this Congolese Jesuit, since 2008, has worked for a change in the management of these resources that would benefit all Congolese citizens. In recognition of his work, Mr Sylvain Ntumba, director general of African Institute for Economic and Social Development (INADES) in the DRC defined the career path of Ferdinand Muhigirwa as a sign of "commitment to social change".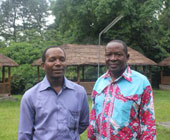 Many Congolese NGOs currently monitor the exploitation of natural resources for economic reasons. In fact, the exploitation of resources, of which the DRC is abundantly endowed, is one of the issues that most interests public opinion and attracts Western donors. Father Ferdinand Muhigirwa began working in this area for another reason: "he became dedicated to the issue of natural resources to incorporate the desires and worries of the resident population into the management of natural resources", explained Christian Mavinga, manager of the Sector for Development Support in CEPAS.
Patrick Mavinga has witnessed first-hand the commitment of Father Muhigirwa to the issue of natural resources. "He has dedicated body and soul to make CEPAS a centre of reference in this area", Mavinga said. Having obtained a doctorate in philosophy, Father Muhigirwa set out to become an expert in natural resources and "thanks to his efforts, our centre leads the thematic working group of civil society on natural resources".
Social justice in terms of the exploitation of natural resources is not the only struggle taken on by the Congolese Jesuit, who is also involved in the promotion of the status of women. The composition of the CEPAS team is the proof. "When he was nominated director, there were only two women here. Today, there are three", explained Arlette Masudi, Director of Human Resources in CEPAS since 2009. This young woman is grateful to her former director for giving her the opportunity to strengthen her leadership skills.
The type of change advocated by Fr Muhigirwa does not only apply to the natural resource sector, but also to the management of organisations and institutions. The Jesuit, specialised in the philosophy of Lonergan, is convinced that social change based on justice cannot come about unless the capacities of development actors are strengthened. It is for this reason that "the Father established the Sector for Development Support", explained Christian Mavinga. Thanks to this sector, CEPAS not only offers NGOs and state institutions the possibility of participating in capacity building training, but also to engage in coaching.
The concept of providing coaching is in line with the mission and vision of CEPAS – a Jesuit institution which "with its analysis, research and consequential action is committed to the promotion of justice and comprehensive human development in the DRC". The Jesuits dream of making CEPAS, established in 1961, a "centre of reference in research and action for the promotion of a type of leadership and 
culture of economic, social and political management that generates wealth and well-being for all Congolese citizens".
Father Ferdinand Muhigirwa leaves CEPAS for a new centre in Lubumbashi, in the mining province of Katanga, but without abandoning his passion for the transparent management of natural resources.
Gustave Lobunda SJ
Flashnews
Colombia – Provincial receives Chirac Foundation Award for Peace

Fr. Francisco de Roux, Provincial of Colombia will receive the Chirac Foundation award, which is considered to be the French Nobel for peace, on November 22
nd
 in Paris, for his long commitment to peace building in Colombia. Fr. de Roux led the peace laboratories in Magdalena Medio region, where he defended and promoted the development of farmers living in violent situations, infested by the guerrilla and paramilitaries, losing many companions. He never abandoned this commitment to peace in his different assignments, being also today involved in it in his new position as Provincial. 
Read more…
Haiti – Another devastating calamity and accompaniment

Hurricane Sandy badly affected several countries of the West Atlantic coast. We received information about the situation faced by US citizens, but other countries were also hit by the violence of the hurricane. Haiti was one of these, where 51 people died and 15 others missing. The 400,000 already displaced persons by the earthquake in 2010 suffered the most, as they are living under tents in very poor conditions. Some of them are accompanied by the JRS team in Haiti.
Read more…
Fe y Alegría demands recommitment to Quality Education for all

Fe y Alegría in Paris, UNESCO – In 2000 the international community committed itself to providing free and compulsory access to primary and secondary education for all children, prioritizing the improvement of quality education. This was one of the UN Millennium Development Goals. Representatives of international and regional organizations – Fe y Alegría being one among them – gathered in October in UNESCO, Paris, and denounced that, despite the progress during these last few years, especially in the field of primary education access, the process of providing education has come to a halt and in some countries there are also backward movements. 
Read more…
India – Two Martyrs Remembered

The fifteenth 
Shahdat Diwas
 (Martyrs day-24
Oct. 1997) of 
A.T. Thomas SJ 
(HAZ), who valiantly fought for the dignity and rights of dalits (
Bhuinyas, Ravidas, Ganjhus
) and adivasis in Jharkhand and faced threats and opposition from the upper castes, was held on 18 October at Babupara, Jharkhand. And the first Martyrs day of 
Sr. Valsa John 
(Martyred on 15 Nov. 2011), who began the resistance movement against the coal mining and displacement of Santal adivasis in Pakur district-Jharkhand, was held on 15
th
 November 2012. On both these days, thousands of dalits and adivasis in their respective places gathered to pay their respect and to renew their commitment to fight for their dignity and rights against every form of injustices, oppression and corruption of the upper castes and corporate sectors.  
Read more…
Mexico – Campaign to promote the culture of hospitality for migrants
Mexico – From October 22nd to 26th the members of the Latin American JRS – JMS network, Central American Region, gathered in Mexico. They began a fruitful dialogue among pastoral, social and research centers in order to serve better the migrants. They were able to contact Central American migrants on the move in Huehuetoca. They have also decided to launch a campaign to promote the culture of hospitality next year. 
Read more…
USA – GIAN Workshop on Ecology

The GIAN Workshop on Ecology was held at Loyola University (Chicago, USA) from 28th to 31st October where 8 members participated. During the last 2 years, the network carried out a detailed mapping of Jesuit institutions that are working in environmental issues and who would be interested in committing themselves on advocacy initiatives. The mapping has shown a real constellation of initiatives ranging from community lifestyle to projects of water and forest management by local communities. The network also prepared a plan for the next two years centered on 'water' as an issue that touches life in a very direct way. The network will promote awareness among Jesuits and friends about this crucial issue of water while identifying opportunities for advocacy for access to clean water and to avoid water becoming a commodity.
India – 'Taking Sides: Reservation Quotas and Minority Rights in India' published
The book 'Taking Sides: Reservation Quotas and Minority Rights in India' by Rudolf C. Heredia SJ, has been published recently by Penguin publishers in India.  'Taking Sides' examines the churning debate from several points of view, and makes a persuasive argument for justice premised on liberty, tempered by equality and moderated by fraternity-a justice beyond politics. 
Read more…
USA – Ignatian Solidarity Network initiates Family Advocacy Month

Ignatian Solidarity Network (ISN) is initiating the first ever 
Ignatian Family Advocacy Month (IFAM)
 in February 2013.  ISN invites those connected with Jesuit institutions and partners to commit to working for the human dignity of all people and care of our Earth through legislative advocacy.  They will focus on three priority issue areas: Domestic Poverty, Humane Immigration Reform, and Sustainable Environmental Policies. You can be part of this collective effort for social and environmental justice! 
Read more…
Rome – GIAN Leaders meet to share and plan the future

The five Global Ignatian Advocacy Network leaders gathered at the SJE Secretariat from 10-14 November to share the outcome of the last 2 years of working together, to evaluate the progress made and to plan the future course of action.  They also shared their rich experiences, struggles, challenges and opportunities that they see in the Society of Jesus with the committee for the missions (Comitato di missione) and also with Fr. General. Everyone felt encouraged seeing the progress made in networking but felt the need and importance of creating greater awareness among Jesuits and building stronger alliances between various sectors of our apostolate, taking the five advocacy issues, chosen by the GIAN as the focus area of our mission.
---
To read documents published in other languages, go tohttp://translate.google.com/ and insert the link to the document. Then choose the languages (From: and To:) and click Translate.
If you want HEADLINES delivered straight to your e-mail box, go to the Headlines Subscription Form:. HEADLINES is available in English, French, Italian and Spanish and is sent to 8,000 addresses in 130 countries. Please let us know when you change your e-mail address by sending an email to [email protected]. Thank you! Visit our website:www.sjweb.info/sjs. 
Patxi Álvarez SJ, Publisher 
Xavier Jeyaraj SJ, Editor
Social Justice and Ecology Secretariat, Borgo S. Spirito 4, 00193 Rome, Italy 
If you are having problems with the new format of Headlines, please reply to this email to let us know.