Social Justice and Ecology Secretariat of the Society of Jesus
Headlines 2013-04
                                            ENG 18 April 2013

…to exchange social justice and ecology news, stimulate contacts, share spirituality

 

and promote networking…
The detainees in the only Slovenian 'close detention centre,' which I visit once or twice a week, arouse my deepest feelings and move my heart. My visit is always a special moment for me. The detainees are persons affected by Slovenian laws and European directives on migration in Slovenia, which is one of the Schengen (so-called) countries of Europe. Meeting them gives me a chance to offer a few words of hope and consolation when they are discouraged or low owing to the harsh conditions at the detention centre. Listening to them and expressing my understanding and compassion gives me peace. It is also a time of inner serenity peace as I try to be a testimony of God's love for all, regardless of race, religion or nationality.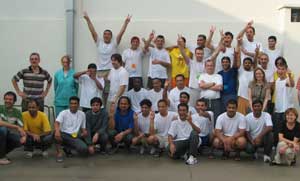 I like meeting people and have been visiting this particular detention centre for more than 6 years. It is a privilege and yet a challenge to encounter detainees from all corners of the world. I have met people mainly from Asia, Africa and Europe, mostly non EU citizens. But I have also met people from the USA and Latin America who have been detained here. Soon after coming back from my tertianship in Chile, I was surprised to find a Chilean with whom I could talk. I found out that he had been caught by police in Slovenia. I had never imagined meeting anyone from Chile in a detention centre.
I am always astonished to hear the answers to my question: 'Why do people choose Slovenia on their way to the other European countries?' Slovenia is still considered by many persons as a transit country on the way to the other Schengen countries in the EU like Germany, Italy, and France, where many detainees have relatives or friends. They come hoping to get a job in these countries, not knowing of the deep crisis the EU is facing now. Some said that they did not even know where Slovenia was when they were caught by the police in this small country of little more than 2 million inhabitants. Because they had no (valid) documents, they were sent to the detention centre for identification and possible deportation to different destinations.  
Every detainee has his or her own life story to share. However, when they are stopped by the police and sent here to this centre, it seems as if their life's journey has been blocked. They are stuck in this centre, which seems to them to be a prison because they are restrained and not free to move out. They do not know what to do with themselves for their lives have been interrupted by restrictions they never expected. Some are shocked; they were so close to their destination, but could not reach it.  Others are full of hope and say God will help them to overcome all these obstacles. They are forced to face the hard life in the detention centre while they wait weeks, and sometimes many months, for liberation be from this bondage. Accompanying and serving such detainees in the midst of their sadness, fragility, discouragement, anger, failure, in short a situation of complete vulnerability, has been a rich learning experience for me and the other volunteers with whom I work.
It upsets me to see so many men from Afghanistan who left their country for peace and better living conditions. It moves me deeply to hear Afghan youngsters share how they faced many difficulties – even at the risk of their lives – on their way to that 'promised land' called Europe. Only God knows how many people must have died on the way to Europe. Thinking of Afghanistan, I ask myself how a country can progress and develop after going through so many decades of war? When will 'real peace' come to this country? When can the people choose their own destinies? Working for just and durable solutions for all is the only way forward.
A special miracle happened in the detention centre in 2008, when a room of silence – the first one in Slovenia – was opened for people of different religious denominations to pray. I have been giving pastoral care to Catholics, but the room is also used by Muslims and followers of the Orthodox Church. The 50 km long drive from the detention centre back to Ljubljana – the capital of Slovenia where I live – is a great opportunity to reflect and pray for these people so that they may endure better their stay in the detention centre, so that God will show them a solution. Many become more spiritual when they observe others praying for strength, light and hope. God's love inspires other hearts to search and find God – even in the detention centre. Yes, miracles do happen even here!
Robin Schweiger SJ
Democratic Republic of Congo – Initiative against weapons fuelling crisis in Great Lakes Region

From 24 to 28 March 2013, the Global Ignatian Advocacy Network (GIAN), the Jesuit African Social Centers Network (JASCNET), the Jesuit Refugee Service Great Lakes, the Jesuit Refugee Service Eastern Africa, the African Jesuit Aids Network (AJAN), and the Hekima Institute of Peace and International Relations (HIPSIR), met in Nairobi to explore joint advocacy actions to address the conflict in the Great Lakes Region. The initiative is part of the GIAN Peace and Human Rights Network.
Since almost twenty years, conflicts and wars affected millions of women, children and men in the Great Lakes. Only in eastern Democratic Republic of Congo (DRC) two million people are continuing to suffer from massive displacement and daily human rights violations in the Great Lakes, such as sexual and gender-based violence and recruitment of child soldiers.
Despite some relevant international initiatives to address the conflict (mainly led by the United Nations and the International Conference on the Great Lakes Region) no significant step forward has been taken in eradicating the root causes of the conflict. Daily reality in the region continues to be characterized by deaths and massive human rights violations against the population and by expensive emergency responses conducted by the humanitarian organizations.
The Jesuit institutions who met in Nairobi strongly feel that the time has now come to effectively advocate for the end of the conflict. Therefore, they agreed on collaborating among themselves and on unifying efforts to design a common advocacy strategy. For more information…
Asia Pacific – Reconciliation with Creation task force
In conjunction with World Water Day on March 22, the Reconciliation with Creation task force in Asia Pacific conference has called for Jesuits and collaborators to be more aware of our responsibility to the world that God created. The need to focus on water is clear as 2013 has also been declared by the United Nations as the Year of Water Cooperation.  "Through Healing a Broken World, Fr General Adolfo Nicolás SJ asked Jesuits and our institutions to understand our relationship with our environment as both ecological and sacred, calling for greater responsibility and reconciliation," said Fr Pedro Walpole SJ, Coordinator for Reconciliation with Creation. This initiative is linked to the GIAN Ecology network.Read more…
Situation analysis of Latin America – An evaluation of democracy in the region

Centro Gumilla (Caracas – Venezuela) has recently published the last analysis of the situation of Latin America, focusing in this occasion on the democratic health of the region. These analyses are a joint effort of the social centers in Latin America that appear every three months. This last analysis condenses two chapters of an investigation by José Virtuoso SJ and Ángel Álvarez.Download here…
AJAN – Moving towards regional advocacy

Seventeen Jesuits and colleagues involved in AIDS ministry came together from 10 sub-Saharan African countries for the AJAN advocacy meeting that was held from 2 to 5 March at the Emmaus Spiritual Centre in Bujumbura, Burundi.  Although individual Jesuits and projects are already advocating at local and national level, AJAN now wants to implement regionally coordinated campaigns. "Through its different projects, AJAN is better placed to be in it for the long haul, to do this work that calls for courage and competence," said one participant, Fr Jean-Simon Ratsimbazafy SJ, who runs an AIDS project in an isolated rural district of Madagascar.  The meeting aimed and managed to develop shared advocacy plans for three focus areas: access to treatment, orphans and vulnerable children and sexual and gender-based violence. Read more…
GIAN Ecology – Water for all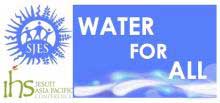 The world is again recognizing water as the basis of all life. Water for all is an integrated worldview of human development and care for the environment, rather than a fragmented use of resources. The big challenge is in securing the basic water needs for the many who do not have access and for business to grow in responsibility as it increasingly realizes the value of water in sustaining production. The GIAN Ecology Network is collecting experiences from the different regions. The challenge is for all to network and cooperate to form a worldview of human development and care for creation. With this, Jesuit people are encouraged to: a) collaborate with others on water clean up, b) support students' efforts and youth involvement in responsible water use, c) share with EcoJesuit (www.ecojesuit.com) initiatives and materials developed on water cooperation. Read more…
US – Immigration Reform Hearing on April 10
Jesuit Father Sean Carroll, Executive Director of the Kino Border Initiative (KBI), a bi-national humanitarian ministry of the Society of Jesus, testified at a public hearing of Congress about immigration reform on April 10, 2013. Fr. Carroll spoke about the human cost of the current immigration system witnessed by staff and volunteers who serve at Kino Border Initiative's Aid Center for Deported Migrants. According to Jesuit Conference policy director, this is a big opportunity for members of Congress to make their voices heard, especially those with large numbers of immigrant constituents, those serving districts located directly on the border, and those with strong feelings surrounding the issue.Read more…
GIAN Education – Global Campaign for education

Since 2000, the world has made good progress in getting tens of millions of children into school – but in 2008, that progress stopped. Today, 132 million children remain out of primary and lower secondary school, with little or no hope of ever learning how to read or write, with little or no hope of breaking the cycle of poverty. There is a need to make sure each and every one of these children has access to a trained teacher.  However, there is an acute shortage of teachers. To get every child into primary school, we need 1.7 million more teachers, 1 million more in Africa alone. In addition, each new teacher, and each existing teacher, needs to be ensured that has quality initial and ongoing training.  The GIAN education network is promoting the global campaign for education during the Global Action Week, 21 – 27 April 2013. Read more…
South Asia – Orientation Statement of Jesuits in Social Action

Thirty Jesuits of India with some of their collaborators, invited by the JESA Secretariat, met from 15th to 17th March 2013 at the Indian Social Institute, New Delhi, to deliberate on the future of their mission in the changed environment of the Indian state and to identify areas and methodologies for effective interventions and collaboration with institutions, movements, citizens and civil society.  After the meeting they have issued an orientation statement of Jesuits in Social Action where they speak about the challenging context, the disturbing concerns that arise, they share some realities that they find as signs of hope and they propose some strategies for action. Read more…
---
To read documents published in other languages, go to

http://translate.google.com/

 and insert the link to the document. Then choose the languages (From: and To:) and click Translate.
If you want HEADLINES delivered straight to your e-mail box, go to the Headlines 

Subscription Form:

. HEADLINES is available in English, French, Italian and Spanish and is sent to 8,000 addresses in 130 countries. Please let us know when you change your e-mail address by sending an email to 

[email protected]

. Thank you! Visit our website:

www.sjweb.info/sjs

. 
Patxi Álvarez SJ, Publisher 
Xavier Jeyaraj SJ, Editor
Social Justice and Ecology Secretariat, Borgo S. Spirito 4, 00193 Rome, Italy 
If you are having problems with the new format of Headlines, please reply to this email to let us know.