Social Justice and Ecology Secretariat of the Society of Jesus
Headlines 2014-02
                                                      February 2014
…to exchange social justice and ecology news, stimulate contacts, share spirituality
and promote networking…
Narrative 
Sharing the road with refugees
Mario Brisson, SJ
My work with refugees has led me back to a personal experience of loss. When I was a child, my family had a farm in Saguenay region (East Quebec), and later on we had to move to the city. The refugees I work with have had to leave their own countries because of famine, war, torture, persecution, and some because of their commitment to justice and peace.
The losses these families endure are huge. They are bereaved in many ways, having lost a brother, sister, father or mother, friends, neighbours…  I am thinking in particular of one woman who was beaten in the refugee camp, and who has been waiting month after month for her niece with her young son to arrive in Quebec. I am thinking of a man who has been waiting for his brother for eight years due to administrative issues which take priority over humane considerations. There are many such stories.
The bereavement of migrants and refugees also extends to their homes, their businesses, their work. They are brutally separated from their home environment, their culture, many of their basic values.. Without forgetting that they have to overcome the impact of physical abuse, persecution and uncertainties which take all sorts of forms, including the feeling of being shunned by society and difficulties in finding employment. All of this recalls harrowing situations experienced in their  countries of origin.
The power of the Good News is that we can reread it from certain moments in our own lives and there discover the hand of God in our daily experiences, in what we are.  In contact with refugees, I have discovered the depth of their lives. Although they mainly belong to a different religion from my own,  I have seen what God does and achieves in them.
I was unable to find words for certain aspects of my life. In contact with immigrants and refugees, I can do this better, to discover a part of myself which has been given back to me. In the same way, a society which welcomes new arrivals in its midst will grow in wisdom and grace if it knows how to absorb the values and riches they bring with them. Welcoming works both ways; in a climate of mutual trust, the host society changes, along with the new arrivals who desire to live in and with it. In this way, immigration becomes a win-win situation, a challenge for every Christian and all people of good will. Mutual acceptance is the way to the Future.
Flashnews 
India – People's Manifesto ahead of the General Election in India
In January 2014, about 65 members of South Asian Peoples' Initiatives (SAPI) from all over India brought out the Peoples' Manifesto in view of the forthcoming general election in May 2014. The People's Manifesto is the outcome of their deliberations on 8 thematic issues: the economy, education, health, environment, social issues, political reform,  cultural matters and issues of governance and security. Containing proposals and recommendations, the People's Manifesto has been framed with the objective of making people aware of their legitimate rights and of the responsibility of those who contest the elections. Read more …
Latin America – International Campaign promoting a culture of hospitality

 
On January 19, World Day of Migrants and Refugees promoted by the Catholic Church, the Provincials of Latin America endorsed the Campaign promoting a culture of hospitality, an initiative launched by the Jesuit Network for Migrants in Latin America and the Caribbean. The Campaign is a joint initiative of this network together with the International Federation of Fe y Alegría, the Christian Life Communities and the Federation of Latin American Jesuit and Ignatian schools. To read more about the Campaign and its objectives…
Belgium – Fr. Ziad Hilal on the Syrian situation

 
In the course of an evening meeting on "Christians in Syria held in Belgium, Fr Ziad Hilal SJ, from the Jesuit Refugee Service in Homs, Syria, spoke about the situation of the country and the sufferings of the population. The main message from Father Hilal was twofold. First:  there is hope for the future of Syria when you see all that is being doen through common relief efforts. Secondly: do not focus your attention solely on the Christians in Syria, but think of the Syrian people as a whole. In the lively discussion that followed there were remarks regarding outside forces that influence the conflict, on the exodus of Christians and questions about the millions of Syrian refugees in neighbouring countries. See a video of Fr Ziad Hilal…
CPAL – Roberto Jaramillo sj, new Conference Social Coordinator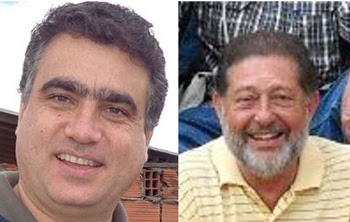 Last January Roberto Jaramillo SJ replaced Alfredo Ferro SJ as new Social Coordinator for Latin America. Originally from Colombia, he has been working in the Amazonian Region in the last few years. Now he has already moved to Lima, which will be his base. Fr. Alfredo Ferro will participate in the Pan -Amazonian project in which Jesuit Provinces that have a share of the Amazonian jungle will be involved. We thank him for all his good work and support during the six years when he was in charge of the Social Coordination in Latin America.
Philippines – Collaborative response to disaster risk reduction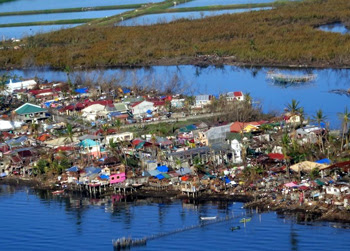 In the aftermath of the typhoon Yolanda in the Philippines, Pedro Walpole SJ reflects on our contributions to ongoing efforts in rehabilitation, reconstruction, and re-design. These efforts are aimed at helping people build homes anew and live and work in safe structures, pursue a livelihood to meet their needs, and engage with local government to ensure that basic services are present. His reflections may be useful to Jesuits in other locations where disasters are likely to hit populations in the future, affecting mostly the poor and the vulnerable. To read the article …
Italy – "Rome for peace and humanitarian action" Prize to Centro Astalli

 
On December 19, the Astalli Centre in Rome was awarded the prize: "Rome for Peace and Humanitarian Action" by the mayo r of Rome, Ignazio Marino. Fr. Giovanni La Manna, president of Centro Astalli (JRS in Italy), receiving the award said: "I want to dedicate this award to all the refugees whom we encounter every day at the Centro Astalli, especially all the 336 Eritreans who died on the coast of Lampedusa in an attempt to reach Europe to seek asylum. Let us feel responsible for those deaths and commit ourselves to preventing this from happening again." Read more…
Global – Launch of the "Bamboo community"

 
'Bamboo' is a community open to all who seek to live a life of deep connection with others and all creation, grounded in the mystery that underpins our lives. Seeking to be "contemplatives in action",they affirm life, love and justice through their commitment to the following foundational principles: simple living, solidarity and contemplation. Bamboo has its roots in the Ignatian, Catholic, Christian tradition. Bamboo is for anyone who seeks to live a life of integrity and purpose and who wishes to connect with others in this endeavour. For more information and for those who wish to join this virtual community…  
Peru – Jesuit Archbishop Barreto defends the vulnerable against mining

 
Msgr Barreto SJ has addressed the President of the Peruvian Republic, as well as its Ministers and Congressmen, expressing his concern about the situation facing the population when mining activities restart at Morococha (Huancayo). He asks the authorities to guarantee the health, employment and education of the people in that area. Read the letter from Msgr Barreto …
---
To read documents published in other languages, go to http://translate.google.com/ and insert the link to the document. Then choose the languages (From: and To:) and click Translate.
If you want HEADLINES delivered straight to your e-mail box, go to the HeadlinesSubscription Form:. HEADLINES is available in English, French, Italian and Spanish and is sent to 8,000 addresses in 130 countries. Please let us know when you change your e-mail address by sending an email to [email protected]. Thank you! Visit our website:www.sjweb.info/sjs. 
Patxi Álvarez SJ, Publisher 
Xavier Jeyaraj SJ, Editor
Social Justice and Ecology Secretariat, Borgo S. Spirito 4, 00193 Rome, Italy 
If you are having problems with the new format of Headlines, please reply to this email to let us know.
---